In 1925 Balkan
Wars' veteran, Dancho Popov, returns home to his wife Vitka after ten years' absence, dressed only in his underpants. Terrified that he will be arrested as a deserter he has walked from the Turkish border barefoot and at night-time.  Vitka has to hide him. Neither is ready to reveal the truth about the immediate past.
Dancho relives a horrifying symmetry in recurrent nightmares that feature black hands and ropes. They are based on his capture by Senegalese soldiers in 1916 and his subsequent involvement in people smuggling between Africa and lawless post-war Marseilles. Vitka, an attractive "war widow" in a turbulent Bulgaria, has been drawn ever closer to her family protector, the hotelier Plamen Gospodinov. Her pregnancy will lead to murder.
With great attention to detail and extraordinary narrative power this novel tackles major issues of prejudice and redemption.
Now available in Kindle and paper versions
 Click here to purchase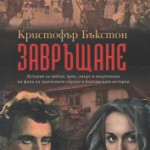 Ветеранът от Балканската война Данчо Попов се завръща у дома при жена си Витка с десетгодишно закъснение и никой от двамата не е готов да признае истината за близкото си минало.
Данчо преживява отново и отново кошмарите на пленничеството си и трафика на хора от Африка до Марсилия, в който е бил замесен и който го белязва за цял живот.
Витка, красива "вдовица от войната", която отглежда сама сина си в размирна България, е била съблазнена от семейния покровител – хотелиера богаташ Пламен Господинов. Нейната бременност ще доведе до убийство.
С майсторско описание на детайлите и с изключителна сила на повествованието и в обратите в развитието на сюжетната линия, романът разисква важните и вечни теми на предразсъдъците, любовта, чувството за дълг и чест и липса на такова, както и греховете и изкуплението на хора, които самият живот превръща в герои.
Стракнейте тук да я поръчвате!