Christopher Buxton specializes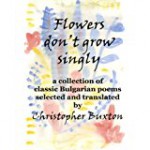 in quality translations of Bulgarian literary texts into English. A selection of his translations of classic Bulgarian poetry can be found in Flowers don't grow Singly published in 2016 and available through Amazon.
visit http://ekf.bg/en/index.php?option=com_content&task=view&id=43&Itemid=37 for cv and summary of translation work to date.
Rates: Subject to size of translation and complexity of text but on average 0.05 euro per word.
Contact: sozopol456@yahoo.com
Poetry
Folk Songs from the Miladinovi brothers
Petko Slaveikov 1827-1895
Hristo Botev 1848-1876
Ivan Vazov 1850-1921
Pencho Slaveikov 1866-1912
Tsanko Tserkovski 1869-1926
Kiril Christov 1875-1944
Peyo Yavorov 1877-1914
Dimcho Debelyanov 1887-1916
Geo Milev 1895-1925
Elizaveta Bagryana 1893-1991
Assen Raztsvetnikov 1897-1851
Atanas Dalchev 1904-1978
Nikola Vaptsarov 1909-1942
Radoi Ralin 1923 – 2004
Stanka Pencheva 1929-
Penyo Penev 1930-1959
Hristo Fotev 1934-2002
Vladimir Bashev 1935-1967
Prose
Aleko Konstantinov (1863-1897)
Yordan Yovkov 1880-1937)
Ivailo Petrov 1923-2005
Gencho Stoev 1925 – 2002